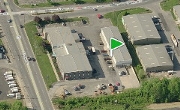 Mission
To provide our clients, with an elegant, optimal solution and products, while simultaneously building and maintaining an enjoyable and fun relationship.
We are committed to producing high quality, reliable, cost effective products that provide customer value. Our Quality Management System (QMS) achieves these objectives and embraces the principles of continuous improvement.
Company Profile
Located on the east coast of the USA in Newark, Delaware (home of tax free shopping!), we are conveniently close to I95, mid-way between New York and Washington DC.
Originally founded to provide design services, we soon found that our clients were often let down by the larger contract manufacturers, in both costs, and prolonged time scales. Early in 2002, we began adding our own, in-house, state of the art surface mount assembly capabilities. We have since expanded that capability so we can produce prototypes, pre-production runs, as well as production quantities. We will help you transition the production to a larger facility if your volume mandates.
In case you are not yet familiar with our work, you will see our designs in the laboratory, in the field, on TV. Our clients range in size from individuals, large startups, multi national corporations. We have provided elegant, simple solutions for a wide range of industries. A small representation of the industry, and products we have designed and developed include:
Laboratory: High accuracy temperature controllers, pH measurement systems...
Commercial Kitchen : Award winning specialized cooking equipment, regularly featured on TV cooking shows...
Home Kitchen: Cooking devices you can buy at the Mall...
Light Industry: Textile testing instruments, product contamination detectors, laser cooling equipment...
Heavy Industry : Various sized cooling systems, bulk particulate detection / rejection systems, injection molding cooling...
Energy Industry: Devices that help promote rapid production of alternative fuels...
Communication: GHz switching for cable side...
Medical: Very small "wear" recording devices, pupil measuring instruments...
Defense Industry : Power equipment for Avionics, specialized GPS and Sat phone based location devices, anti-personnel device detection...
Research: Fluid measurement / delivery for next generation displays...
Consumer: Cooling control for product dispensers...
Recreation: Electronic control boards for some very cool sports equipment...


Although we can provide a complete system, from concept to finished product (turnkey) we can provide just the piece of the puzzle you may be having difficulty with, or perhaps you are simply resource stretched.
While technology is important, we believe good, long term relationships are the key to good business and success. Wherever you are located, feel free to contact us, stop by for a coffee (it's free). We do not charge you for hospitality, or even for our travel time! We will be happy to discuss how we may help you, and try to point you in the right direction, in event that we don't match.