Production
The manufacturing facility is operated in conjunction with Engineering but is available for your use even if you are looking for a "build to print" contract manufacturer.
CMD has developped and is implemeting a unique document control system. A networked system of iPads present at every operator station ensure that every one is working to the very latest procedure, using an in-house server.
You will find our quality to be exemplary, and our commitment to meeting your goals to be unquestionable. Our design engineers are located within the same building, so if you need engineering assistance, you only need to shout!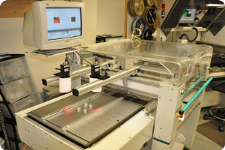 2003 : We installed a line of new, full vision based, fully automated surface mount production equipment. This equipment is ideally suited to both complete production runs and pilot production.
2005 : We installed a 2nd line, dedicated to Lead-Free and RoHS compliant products.
2010 : We bought 2 Automatic Optical Inspection machine (AOI) in order to quickly inspect our boards. A camera autonomously scans boards for variety of surface feature defects such as short circuits, thinning of the solder as well as missing components, incorrect components, and incorrectly placed components.
2011 : We installed a second line of full vision based, fully automated surface mount production equipment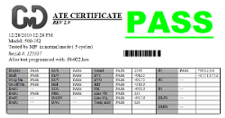 2011 : We designed a series of custom Automatic Test Equipment (ATE) capable of automatically testing and diagnosing performance on boards after manufacturing. These ATE store all test data in a central database.